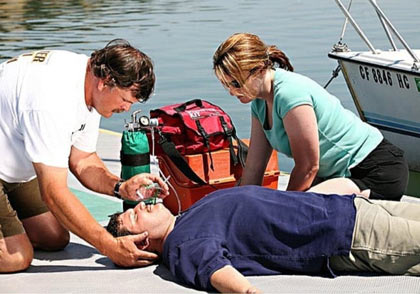 Emergency Oxygen Provider
Level: Advanced (½ Day) - 7,500฿ (Vat Included)
PADI™ Oxygen Course 7,500 ฿
Administering pure oxygen to someone with life-threatening symptoms significantly increase the chances of a positive outcome. Learn how to recognise illnesses that require supplemental oxygen treatment and how to provide emergency oxygen safely.
---
The PADI Emergency Oxygen Provider Certification Course prepares divers and non-divers to respond with confidence to any situation where providing oxygen therapy would be beneficial such as a patient with breathing difficulty. Emergency and rescue portable oxygen cylinders are standard safety equipment on most dive boats and highly recommended for lifeguards, swimming pool attendants.
---
Oxygen Provider Lessons (½ Day)
---
The oxygen theory class teaches you the steps and techniques for handling oxygen equipment safely. You will also learn how to prioritize emergency and supplemental oxygen administration procedures using the AB-CABS memory word.

Participants learn...
The symptoms of water related drowning accidents
Accidents and illnesses treatable by emergency oxygen
About the safe storage and handling pure oxygen
Oxygen cylinders and equipment considerations
---
During the practical part of the oxygen course students train in the following;
Oxygen equipment kit selection
How to provide emergency oxygen
Role-play emergency oxygen scenarios
Oxygen delivery systems (assembly and disassembly)
Equipment maintenance and cleaning
---
3. Certifying Examination
Successfully passing the PADI® Emergency Oxygen Provider course exam completes the international certification.
---