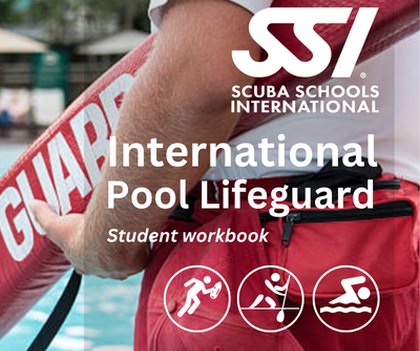 Lifeguard Training
(International Certification)
Level: Advanced (2 to 4 Days: Depending on the level of Lifeguard certification)
First Aid Training Bangkok Offers Lifeguard Training.
Who should attend our 2-year internationally recognized Lifeguard training? Teachers, Students, Hotel Staff, Yacht Crews, anyone that is frequently around water and especially where children are nearby.

Participants will learn the latest international water rescue skills ensuring you are a truly competent Lifeguard, and Rescue Ready.

Like Life, there are NO shortcuts to Success, and the same is true for Life-Saving training. So-called, "short" or "hybrid" courses simply cannot provide the adequate time needed to master Life-Saving skills. Nor do they provide an official "Lifeguard manual" so you can review and refresh your skills anytime.

Your SSI Lifeguard Training manual is completely digital, so you can take it with you anywhere on your smartphone, tablet, or laptop and study anytime.
---
Why an International Lifeguard Certification?
---
LEGAL PROTECTION: For Schools, Hotel Resorts, Water Parks, Beaches, International Certifications are the only way to ensure professional-level Lifeguard training, that provides the legal protection needed in the unfortunate event of a water accident. A "short" or "hybrid certification" simply cannot provide this protection.
---
REQUIRED STANDARDS: International Lifeguard programs ensure a strict standard of training is followed, with student records, a final exam, and skills evaluations that must be completed and passed.
---
INTERNATIONALLY REGISTERED: Graduates of the SSI Lifeguard program are registered with SSI international registry, where your certification can be verified by any SSI Center, Worldwide.
---
In Thailand, there are several "organizations" offering training, unfortunately, most have no active membership with an established international certifying organization. This means there are no required training standards to be followed and no third-party quality control measures in place. Many are still teaching old outdated skills.

With Thailand's expanding population, and many cultures that are not used to being in or around the water, are unfamiliar with the potential dangers. This is leading to an increase in accidental drowning.

Being RESCUE READY, is only what an international certifying organization can provide. Quality Lifeguard Training.
---
Prerequisites:
---
Certification Prerequisites
Internationally recognized CPR & First Aid Training with AED, Oxygen Administration.
---
Academic Sessions (Minimum)
---
---
---
Lifeguard Candidate pre-requisites for attending the course are:
Able to swim underwater for 15m without swim aids, such as fins.
50m Rescue Approach

*Breast or crawl stroke under 1min to a simulated victim while maintaining eye contact.

Surface swim 400m without stopping
Hold a current internationally recognized CPR & First Aid AED certification (First Aid, CPR)
---