Corporate - CPR First Aid Training AED
First Aid at Work: CPR & First Aid Training in Bangkok and throughout Thailand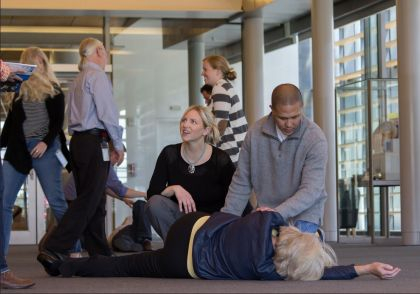 ---
Learn how to recognise a medical emergency and activate Thailand EMS
Recognize the typical signs and symptoms of heart attack, cardiac arrest, and stroke
Perform a primary assessment on a patient using the AB-CABS memory word
Practice adult CPR, treat serious bleeding, shock, choking, and spinal injury management
Learn injury and illness assessment, immobilisation techniques, bandaging, and splinting
Securely Paid Via:

Course Syllabus
Our professional Thai and English EFR Instructors offer CPR and first aid training workshop seminars for your workforce staff on-site at your business premises. We are backed by 20 years of experience in emergency and response training.

Large working groups and corporate teams benefit from a customised medic workshop that includes practical hands-on demonstrations and scenarios.

We offer convenient and affordable first aid skill presentations and all participants receive a first aid handbook and local certificate in recognition of their attendance. The Price List for Business is based according to the size of the group, the number of training hours, and the location. The lessons are available in English and Thai language.
Training Standards & Goals
The CPR and First Aid training follows the emergency considerations and protocols as developed by the members of the International Liaison Committee on Resuscitation (ILCOR). Current members include the American Heart Association, the Australian Resuscitation Council, and the Resuscitation Council of Asia, and many others.

You should not expect to control all the variables in a real emergency. But knowing how to provide adequate care and react appropriately often tips the balance in favour of full recovery instead of a long-term disability, or life versus death. Our trainers have easy learning tips for you and teach you how to respond to victims of a heart attack or sudden cardiac arrest, unresponsiveness, breathing difficulties, spinal injuries, and choking.
CPR & First Aid Group Training 9,800 ฿
1. Theory Lesson (50%)
Our theory workshops teach you the steps and techniques for handling life-threatening emergencies. You will learn how to prioritize emergency procedures using the AB-CABS memory word and monitor a patient's Cycle of Care. This important information and guidelines on critical care emergency is based on the same priorities used by medical professionals.
2. Practical Lessons (50%)
The skill development and mock emergency scenario sessions are delivered by your CPR trainers based on real life incidents and may include the following techniques depending on the level of presentation that you require;
How & When to activate the local Emergency Medical Services
Recognizing a medical emergency is not always obvious and early activation of the local emergency services can be a life saver. We offer information and guidelines on scene assessment safety for the rescuer and how to activate professional medical care using the Call First and Care First approaches to taking action in a medical emergency.
Barrier Protection for the Rescuer
It is important for lay person rescuers to protect themselves from disease transmission when offering medical care to others. Learn how to use personal protective barriers such as latex gloves and mouth shields using appropriate cleaning and disposal methods effectively.
CPR for Adults Children & Infants
The Cardiopulmonary Resuscitation workshop is important for everyone and it specifically covers the CPR rate for Adults, Children and Infants, and the very latest guidelines for compression depth. Do you know how fast you should push ? How deep should you push and when should you stop giving CPR to your patient ? How does CPR help to save a life ?
Near Drowning Incidents
One of the most popular topics in our on-site seminars is the drowning first aid workshop which is a very popular parent group first aid presentation as they are extremely concerned for the safety of their children near water, especially swimming pools. Be informed about the latest changes in CPR recommendations for victims in water.
Poisoning Symptoms and How to activate the local PCC
Generally aimed at parents and child carers, the section for poisoning covers ingested and inhaled poisons and chemical substances. Do you know how to contact the nearest Poison Control Center ? When should you induce vomiting ?
Severe Bleeding Injuries
Do you know how long you may have to wait for the emergency medical services in your area ? Discover some potentially life-saving skills in serious bleeding accidents. Learn three ways to stem the flow of arterial blood and how to protect yourself from disease transmission and other blood borne pathogens.
Spinal Injury Management
Helping a patient with a suspected spinal injury calls for special skills and training. Although you would not usually move someone with suspected spinal damage, we can give you techniques if it was necessary to turn someone and render CPR.
Treatment For Shock
Could you recognise some of the signs and symptoms of a patient in shock ? Shock management skills can make a huge difference to help someone while you are waiting for the EMS to arrive.
3. Question Time & Certificates
You may also be interested in
Inquire about this Course