BKK Parent Group CPR Workshop
We offer simple and effective first aid workshops that brings your group up to date with the most current CPR protocols and guidelines, conducted at your office, home or you are welcome to join one of our First Aid Training Schools in Bangkok, Pattaya, or Phuket.
---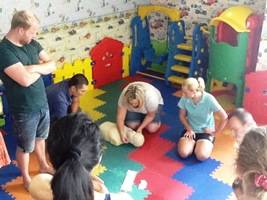 The CPR and First Aid Workshop that we presented to a local parent group was conducted for mainly English and Thai adults.
---
The main theme at the on-site location in Bangkok was targeted towards caring for their small children and toddlers.
---
Part of the seminar introduced the group to CPR and First Aid for children and infants with a strong emphasis on how to respond in an emergency if the local EMS have a difficulty arriving quickly.
---
The group had ample opportunity to perform cardiopulmonary resuscitation and other first aid skills on the manikins and volunteer patients.
---