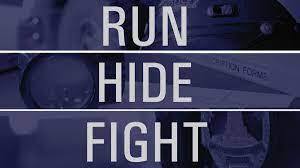 Active Shooter Safety
With the recent world events of random yet targeted acts of violence, learn Life Saving skills from two of the top professionals in Thailand;
John Schachnovsky - Former FBI Special Agent and Attache' to the U.S. Embassy (Bangkok):
Scott H. van Doren - Trauma First Aid Expert, American College of Surgeons: "Stop The Bleed" Instructor.
Because most Active Shooter situations are over in a relatively short period of time causing unspeakable devastation, there are some things we can do to protect ourselves from these random and unpredictable acts of violence. Train!
You will be taught by experts providing your school, business, organization, family, place of worship, the knowledge, skill set, and the practice of how to survive.
Learning these principles NOW will prepare and empower you to put them in Action…. And Survive….Should the unthinkable happen.
Three simple ACTs can save Lives: RUN HIDE FIGHT
RUN: Get out of the area that the attack is happening.
---
HIDE: Hide silently in as safe a place if possible.
---
FIGHT: Take action to stop the shooter/person.