AED & Accessories
ViVest PowerBeat AED
ViVest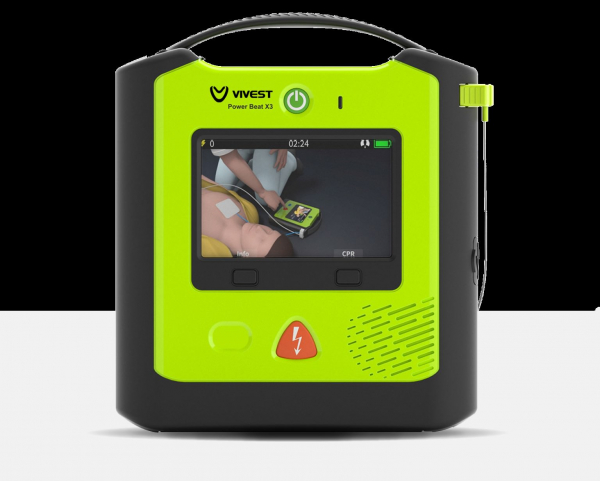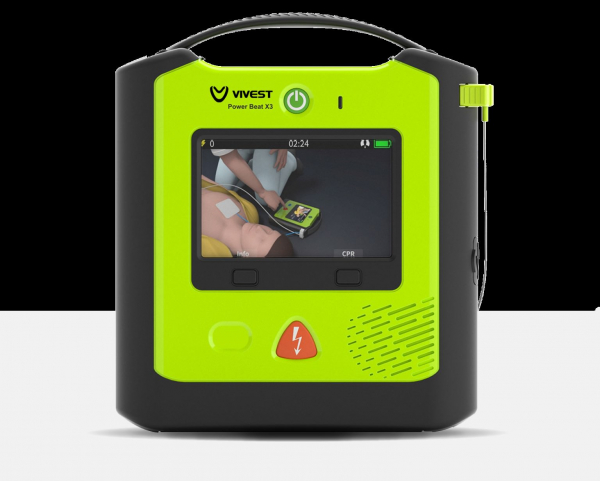 Contact for special discount prices
---
Securely Paid Via:

Semi-Automatic automated external defibrillator (AED)
With easy to use instructions with clear video guidance in two languages. *One audible language and subtitles in a second language.
The ViVest AED is one of the most compact Automated External Defibrillators on the market with Its 12.7 centimeter LCD color video-screen.
The ViVest X3 AED will guide the Rescuer on what to do and how to do it using its video display, removing any guessing as what to do next. Even if you don't have any CPR training or First Aid Training you will have the confidence to HELP with the X3 AED.
Turn on the POWERBEAT AED and there will be simple, clear, and concise audible and visual guidance. Each Rescuer will have the confidence in helping someone who is unresponsive and not breathing, or not breathing normal.
CPR training combined with an AED increases the chance of resuscitation while following the "Chain of Survival".
Designed to be "easy to use" with its video display screen, the ViVest AED X3 is even helpful for a Rescuer that has difficulty hearing or is hard of hearing.
Following the video, there is no need to "hear" the audible instruction, or the language is one that you don't understand.
Completely durable and reliable
Self-testing on a daily basis, drop tested to 1.5 meters.
Designed with a rugged exterior and a built-in handle there is no need for a bulky carry case that may be difficult to open, slowing your response time.
With a failsafe button the AED ensures the ViVest is always RESCUE READY to save lives.
Have you taken that short amount of time to get your CPR training or First Aid Training with us in Bangkok? "Empowered To Save Lives" with your CPR Cert in Hand, that little bit of time you took just may give someone back Life-Time!
Product Highlights:
Slim and lightweight – H 23.2 x W 20.9 x D 5.9 1.5KG
Simple clear audio and visual instruction – easiest AED to use on the market
Time to shock 7 seconds. One of the fastest shock times, increasing the chance of "on scene" resuscitation.
12.7 cm LCD Color Display Screen
Battery life of 4 years (shelf life) and capable of up to 200 shocks
Smart Pads life of 4 years without use. (Pads are a one time use)
CPR audible metronome to help you keep with a minimum of 100 chest compression per minute
Algorithm programmed designed to be capable of detecting a pacemaker and internal defibrillator
Automated ECG recording of up to 8 hours
Self testing Daily, ensures device is RESCUE READY for use
The defibrillator is even splash proof
Dual language option for the video display and "subtitles".
Drop tested to 1.5 meter, rugged & durable. Don't be fooled by Its compact size
Able to identify the person has a "pulse" and make the decision not to shock
You may also be interested in
Inquire about this Product