First Aid Kits - Professional
Many people are not sure what should be in a home first aid kit and wonder which would be the best one to buy. Whether you choose to get a readymade kit or make your own boxes, assembling a portable first aid kit is extremely important for all emergency responders and a useful emergency care addition to keep easily available at home, in the car, in the office and at your workplace first aid station.

First aid equipment and supplies are best kept in a clean, dry bag or storage box preferably made from durable and water resistant plastic. This makes the kits useful for travelling or vacation and a minimum of basic medical essentials should be part of your regular check list to avoid the contents reaching their expiration date.
Professional First Aid Kit
-
3,950฿
2,850฿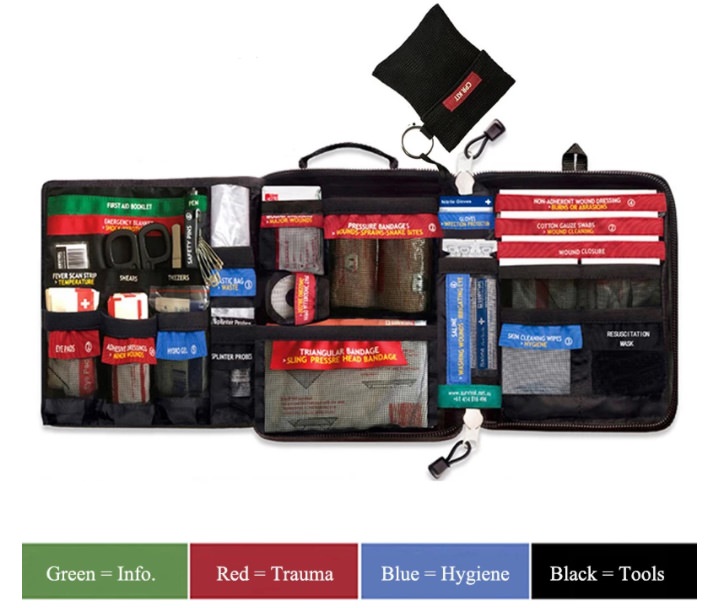 We know how important weight and space is when you are traveling so, we offer the most complete kit to meet your needs, while ensuring you have enough first aid components to treat an injury in the event of an accident. The Vehicle Traveler Kit is also the perfect size for your car glove box or to place under the front/passenger seat.

Key Features
The Vehicle bag is constructed of durable reinforced ripstop nylon and it is water resistant. The oversized zippers make for easy handling in the event of an emergency. Luminous-reflective piping outlines the bag's seams to make it easier to locate in low-level lighting conditions & night-time.

Inside the bag, each first aid component has its own place and it is clearly marked with a label telling you what the item is and what it is used for.

We've left some free spaces for you to add your own insect repellent and sunscreen and there is a personal space section that allows you to tailor the kit exactly to your requirements. You can slip in some medications or a blister pack or a couple of extra bandages. It's your choice.

The Vehicle First Aid Kit is Australian developed, so it will exceed all of your expectations. Make sure your vehicles are prepared for your upcoming adventure, as you never know what is around the corner.

What should I use this kit for?
You will need this kit for your car (work and private), 4WD, caravan, boat, home, camping holiday, hiking or trekking adventure, round the world trip, school excursion, weekend sports bag.

Workplace compliance?
If you are located in a region of the world that requires your vehicle be equipped with a First Aid Kit, this makes your work vehicle/office car compliant. Vehicles are considered as a place of employment and you must by law have a compliant first aid kit in each work vehicle.

Our First Aid Kits are a "No Compromise" quality ensuring you have what you need when it counts!
Contents;
20x Adhesive dressings, individually wrapped
3x Non-adharent wound dressing, sterile, 5cm x 5cm
4x Antiseptic wipes (1 with CPR KIT)
1 Non-adharent wound dressing, sterile, 10cm x 10cm
1x Bandage shears, 19cm stainless steel (15cm Handy)
3x Plastic bags (3 sizes)
6x Cotton gauze swabs, individual but come in packs of 3, sterile, 7.5cm x 7.5cm
2x Pressure bandages, heavy weight, 10cm x 1.8m unstretched
1 CPR Card
1x Resuscitation face mask, disposable, incl 1 pair gloves & antiseptic wipe (in CPR KIT)
1x Emergency blanket 2.1m x 1.6cm in zip lock bag
6x safety pins, 4 large, 2 small
2x Eye pads, sterile
2x Saline, 15ml
1x Fever scan strip
5x Splinter probes, individual, comes in 1 pack of 5
1x First Aid Booklet
1x Triangular bandage, 96cm x 96cm x 136cm
5x Hydro gel, 3.5 mg sachets (burncream)
1x Tweezers, rust-resistant with tip guard tip guard, stainless steel
1 Hypo allergenic adhesive tape, 25mm
3x Wound closures, individual, comes in 1 pack of 3
1x Nitrile gloves large (1 pair with CPR KIT)
1x Wound dressings, No 14 medium, sterile
What is a Professional First Aid Kit?
Our Emergency First Aid Kit was developed by Professional First Responders, ensuring that you have the right equipment to render care to someone injured in an accident, such as stopping a bleeding wound.
What are the benefits of using a Professional First Aid Kit?
Our Professional First Aid kit has each item clearly LABELED, giving you the confidence knowing you can find the right piece of equipment quickly and easily rendering care, with confidence. And some injuries, e.g. massive bleeding, every second counts! confidently provide the necessary care to help an injured person, and/or give care until a more advanced provider arrives and takes over.
Can you use a Professional First Aid Kit for a child or infant?
Absolutely! Generally giving First Aid care to a child or infant you will use the same first aid equipment as you would for an adult. Sometimes we need to modify, or change a piece of First Aid Equipment that may be too big for a child or infant. e.g. arm sling.
How does a Professional First Aid Kit work?
You simply open your First Aid Kit with the large easy to open dual metal zippers, unfolding the 3-panels, and each item is clearly LABELED for quick reference and for a specific purpose, e.g. such as gauze pads for cleaning or covering a wound.
Do I need to be trained in First Aid to use a Professional First-aid Kit?
Yes. To be able to give proper care, having a Professional First Aid Kit is not enough. With proper CPR and First Aid Training learning the "What to do" and the "How to do it", of giving effective First Aid. With training, you will have the confidence knowing how to use each piece of equipment correctly and effectively, and for the right injury.
---