Bangkok's First Ambulance Lane Is Now Open!
6. Oct 2016
Bangkok has the unfortunate distinction of being ranked as one of the most traffic congested cities in the World, with an estimated 500+ new cars added daily.
With such congestion, excessive ambulance response times to Life-Threatening emergencies, such as heart attack and sudden cardiac arrest, are all too common place. Not only is congestion a cause of delay but also city drivers that refuse to "make way" for the flashing emergency lights behind them.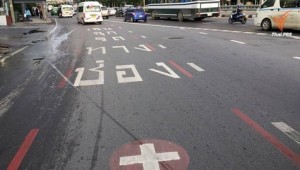 To help remedy two of these main causes of excessive emergency response times, Bangkok officials have opened the country's first dedicated ambulance lane, clearing the way for faster response times and saving more lives.
This first emergency lane originates from the base of the Din Daeng Expressway and stretches two-kilometres near the Vibhavadi junction, along the flyover and joining Rajavithi Road concluding at Rajavithi Hospital.
These Emergency Lanes are easily identified by their distinctively markings, "Broken Red Lines with a White Cross in a Red Circle". These distinctive markings are designed to alert other drivers that they must avert either left or right giving ambulances the "right of way" as they approach the Ambulance lane or they are travelling already.
With this new dedicated emergency lane ambulances with be able to travel that "critical" distance to Rajavithi Hospital in approximately 8 minutes. With this dramatic reduction in response time there is no question that more lives will be saved and as well as reducing the possibility of long terms disabilities to those rescued.
The Royal Thai Police Deputy Commissioner General Pongsapat Pongchareon stated that initially the Police are asking drivers to cooperative by give the "right of way" to the approaching and lane entering ambulances. The Deputy Commissioner continued, that while it is a violation not to "make way" for an approaching emergency response vehicle the Police will not be enforcing the statute at this time in hopes of the Public's cooperation.
The aim of this first ambulance lane is to prove that the concept will in fact reduces response times saving more lives and in doing so additional ambulance lanes will begin to come online.
With the anticipated success of this ambulance lane, plans are to add four more emergency lanes in the hospital dense area of Victory Monument. The four other hospitals scheduled for emergency lanes are Neurological Institute and Hospital, Phramongkutlao, Queen Sirikit National Institute of Child Health, and Ramathibodi Hospital.