U.S. Peace Corps (Thailand)

A Great Big Congratulations to the first group of U.S. Peace Corps Volunteers that are now Primary (CPR) and Secondary (First Aid) Care Emergency Responders.
---
The U.S. Peace Corps (Thailand) accepted bids for CPR and First Aid Training of Its Volunteers, and selected First Aid Training Bangkok Co. Ltd. as their official CPR and First Aid Training Partner.
---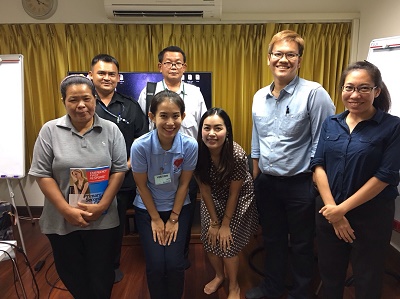 The Peace Corps (Thailand) currently has 103 Volunteers working on community education and youth development projects throughout Thailand. Over 5,270 Volunteers have served Thailand since the Peace Corps started Its mission in 1962.
---
Many of the Peace Corps Volunteers work in very remote locations, where they are able to have the greatest impact educating people. Due to these remote locations the Peace Corps realized the importance of CPR and First Aid Training skills for Its Volunteers.
---
We arrived at the U.S. Peace Corps compound in the morning and set up our CPR manikins and First Aid equipment and begin a day of education.
---
One of our goals when teaching is to create a relaxed, encouraging, and fun environment allowing students to absorb and retain more of the information. With this type of learning environment student also develop confidence more quickly, and confidence is the "Key" to people taking action in an emergency situation while others standby.
---
Each of our new Emergency Responders jumped right in with the "Twins", our two CPR manikins and practiced CPR Chest Compression and CPR Chest Compression with Rescue Breathing. By the time everyone completed their second round of five cycles of CPR you could see the confidence in every Chest Compression.
---
We continue with the Three Types of Serious Bleeding, Shock Management, and Spinal Cord Injuries. We then added our scenarios to help the students understand the importance of staying safe, that we don't have an "S" on our chests and wear capes when giving assistance. Understanding that we are just normal people who volunteer in extraordinary circumstances when it comes to providing assistance and safety first.
---
We rounded up the day with First Aid bandaging, splinting, and illness/injury assessments of patients. Some of the group enjoyed the bandaging practice perhaps a bit too much wrapping their colleagues up to resemble Mummies….. Until next time.
---
Remember: Push Fast, Push Hard!
---