SISB Bangkok CPR and First Aid Training
We were invited by SISB to provide CPR and First Aid training to their Two-Hundred-and-Thirteen Educators.
---
Singapore International School Bangkok (SISB) in one of the largest International Schools in Southeast Asia. SISB has (5) campuses in Bangkok. Each year SISB dedicates an entire day to teacher training. The staff had over 12 different courses they could choose from. These courses ranged from Special Needs Students, to CPR and First Aid Training.
---
SISB needed help to organize their Educator's training day. A month in advance SISB contacted three First Aid Training Companies in Bangkok. They requested quotations on CPR certification and "First Aid Only" training. SISB provided their criteria for the training as well;
---
1.) CPR and AED certification that meets international recognition. A major emphasis on student/child care.
---
2.) "First Aid Only" workshop for its Two-hundred International Educators. Focusing on the most common illnesses and injuries their educators may encounter in the classroom.
---
3.) Training sessions: Two Instructors would conduct two First Aid training workshops. Each workshop would have Twenty-five participants in each session. There was a time limit of 90 minutes each session. In total, eight workshops had completed by the end of the day.
---
That's right, Two-hundred Teachers!
---
Of the three First Aid Training Companies contacted, only First Aid Training Bangkok Co. Ltd. was able to meet the requirements. Our Team of professionals prepared a curriculum exceeding SISB's recommendations.
---
On Monday, March 10th 2017 SISB's International Educator's Training Day started at 8:30 am. With training located at their Pracha Uthit Campus.
---
The "First Aid Only" workshops kickoff with a brief introduction. Then the workshops got right into "Hands-On-Training" with scenarios and roll playing. Each session participants separated into five groups. The groups were given a handout on the treatment and care for a specific injury or illness. They had a few minutes to study the scenarios. Then as a group they performed their skill for the other groups.
---
Everyone had fun roll playing their skills. Some of the participants acted out their skill so well that they may have a future in acting!
---
The "First Aid Only" workshop wrapped up in the afternoon around 4:00 pm with group photos.
---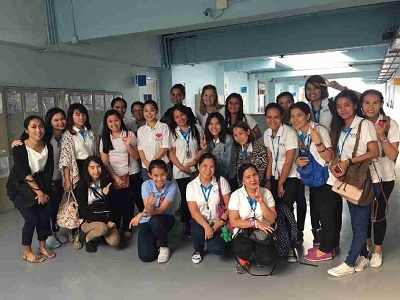 Afterwards SISB sent out surveys to its staff requesting feedback. The survey asked the teachers to rate their experience on a scale of 1 to 5. Teachers were to list the part of training they liked the most and what they would like to see different. With the results in, all CPR and AED training and "First Aid Only" training received a combined total of 4.69. Grade A! Thank you!
---
SISB was very pleased with the survey results. So pleased that they invited First Aid Training Bangkok Co. Ltd. back for future training. SISB asked to continue with the same content and delivery of the training.
---
We had a great day of training with the SISB Educators and we look forward to joining them again soon.
---
We were honored with the privilege of being selected as the Official Training Company for this SISB Event.
---
First Aid Training Bangkok Co. Ltd. is Bangkok's First and only legally sanctioned & accredited Emergency First Response Center.
---
We owe our gratitude and continued success to our Outstanding Team Members. Our Staff; Registered Nurses, former Law Enforcement and Military Operators. Together they offer over 75 years of combined CPR and First Aid Training Experience.
---
Our Motto: We Love What We Do, And We Do What We Love
---
Come join the #1 First Aid Trainer, First Aid Training Bangkok Co. Ltd.
---
To be the Best, Train with the Best!
---