Hellfire Pass Staff Training
We were contacted by the management team at the Hellfire Pass Museum in Kanchanaburi. The museum is run by the Australian Government who recently donated a Zoll Plus Automated External Defibrillator to the museum.
---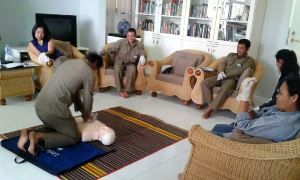 We were proud to conduct the staff training courses in CPR First Aid and AED use on-site at the museum. The courses needed to be presented in Thai language for most of the staff which took two days of training.
---
The War Memorial is more than 70km from Kanchanaburi and first aid resources in these regions are particularly scarce. Their newly acquired AED Device, Portable Oxygen Administration Unit and a selection of First Aid Kits are sure to increase the speed and quality of medical assistance to this popular tourist destination in Thailand.
---
Although the lessons were challenging for some of the team, we are pleased to say that everyone passed the grade and learned some valuable skills and information.
---