Oxygen Resuscitation Masks

Oxygen masks come in a variety of styles and sizes. To treat injuries effectively, you want to provide the highest concentration of oxygen possible over an extended period. Use secure fitting masks especially when treating scuba diving injuries to minimize the dilution of oxygen with air.
---
Generally there are two types of delivery components - nasal cannulas and masks that cover both the nose and mouth. A nasal cannula delivers emergency oxygen only through the nose and is mainly used for injuries if the patient absolutely cannot tolerate a mask. They can only deliver an oxygen concentration of about 40% which is much lower than the preferred 100% for injured divers and are not typically used to treat scuba diving injuries.
---
Emergency Oxygen Masks
---
Simple Masks
Simple masks can be connected to either a constant flow regulator or to demand and resuscitator valves. Simple masks can be used on breathing and non breathing injured divers and can be easily cleaned for re-use.
---
Non-rebreather Masks

Non-rebreather masks are often used to treat injured scuba divers. The patient does not 'rebreathe' his exhaled breath.
---
Low oxygen concentration, exhaled air is dumped out of the mask. The masks are excellent for delivering around 80% oxygen and are second only in choice to demand valves for treating injured divers.
---
Non-rebreather masks feature an attached reservoir bag and three non return valves. The bag fills with oxygen between breaths. Two of the non return valves on the side of the mask keep air from entering the mask when the patient breathes in, otherwise this would dilute the oxygen concentration. The third non return valve is located at the top of the reservoir bag to keep exhaled air from entering the bag which normally contains 100% oxygen.
---
Resuscitation Masks (Pocket Mask)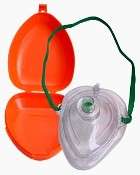 Pocket masks are mainly used to deliver higher concentrations of oxygen to non breathing divers when the mask has a supplemental oxygen inlet. These masks are especially used for giving mouth-to-mouth resuscitation - rescue breaths.
---
Supplemental oxygen from an emergency oxygen regulator flows to the mask via a hose that is attached to a barbed inlet on the mask. With the addition of oxygen, these masks can deliver a concentration of oxygen around 40% as opposed to the 16% of oxygen with mouth-to-mouth rescue breathing only.
---
Like non rebreather masks, pocket masks use the constant-flow, barbed outlet feature of oxygen regulators. To use pocket masks appropriately, the regulator flow-controller knob should be set to deliver at least 15 litres per minute of oxygen.
---