Emergency Responders in Action
The following articles are genuine worldwide reports that document emergency responders in action who used their CPR and First Aid training skills in an act of kindness to help someone in need. Each heroic event actually happened although we may have changed the names to protect their identity.
---
Heroic Daughter Saves Dying Mother with 5 Minutes of CPR
A heroic daughter saved her dying mum by performing CPR for five minutes - just one day after completing a first aid course. Kelly Johnston, 22, has been branded a hero after she came to the rescue when mum Eileen, 60, went into cardiac arrest - despite only having training the day before.
---
Kelly was asleep in bed when she heard her dad shout 'She's not breathing, she's dead. The support worker ran to her parents' bedroom and found dad Ian stood over his lifeless-looking wife. The pretty blonde, from Kidderminster, Worchester, said: I leapt out of bed and opened the door and mum was lying on the floor looking purple.
---
My dad was stood over her on the phone to paramedics while he trying to do chest compressions at the same time. Straight away I took over and gave her mouth-to-mouth which is when she started to gasp for air. The training just kicked in - I never thought I'd have to use it, let alone on my mum.
---
Mum Performs Life-saving CPR in UK High Street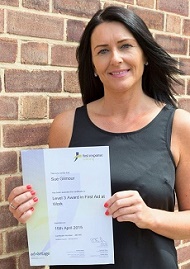 Just weeks after passing a first aid course a heroic shop worker brought a woman back from the dead by performing CPR in a packed high street.
---
The mum-of-two had never used her training before, but she was called into action when she was the first on the scene of a woman in her 60's collapsed in cardiac arrest. Sue performed CPR on the woman who had stopped breathing and her heroics have resulted in two leading charities calling for first aid to be taught to everyone.
---
"I ran over and saw the woman lying on the floor with blood coming out of her nose," she recalled. "She was on her side but then she stopped breathing and didn't have vital signs. I heard the chest crack and I had blood on my face too, it was quite horrific. Then the woman took a big gulp, I couldn't believe it. They say there is such a slim chance you can get someone back using CPR alone. I didn't think I'd be using my training to save someone's life, I thought it would be a cut finger!"
---
St John Ambulance echoed the BHF and applauded Sue's ability to remain calm. British Heart Foundation (BHF) said the survival rate for cardiac arrest is much higher in countries where CPR is taught in school.
---
'Guardian Angel' First Aid Skills Helped Save Baby
A UK mother-of-three is urging people to have first aid training, after a 'guardian angel' neighbour helped save the life of her four-week old baby when he stopped breathing.
---
Kane stopped breathing after choking on milk having being laid down for a sleep. She said he became blue and limp and the panic-striken mother ran out into the street screaming for help carrying her son in her arms. She said her four week old son Kane 'wouldn't be here' were it not for the actions of 24-year-old 'guardian angel' Emily who administered emergency first aid which she had recently learnt and gave the baby CPR for 20 minutes until paramedics arrived. Paramedics said Mrs White's actions helped save Kane's life.
---
The newborn baby boy spent four days at the nearby Hospital following the ordeal but is now back at home and doing well. Mrs White encourages all mums and dads to take a first aid course in saving babies' lives.
---
8 Year Old Schoolgirl Saves Mum's Life
The eight-year-old leapt into action after her mum Tracey stopped breathing and started banging on a table for help when the sweet got stuck in her throat.
---
Leah used her first aid training to whack Tracey on the back to dislodge the rock they brought back from a holiday in Devon in the UK this summer. Now Tracey is urging other children to learn first aid.
---
The 42-year-old, from Cheadle, said: "I wasn't breathing and I started to panic. Leah was really brave and I dread to think what could have happened if she wasn't there. She saved my life." Leah realised her mum had a piece of sweet stuck in her throat and started banging on her back. Within seconds, Tracey was able to breathe again after Leah managed to dislodge the sweet.
---
Now Leah – who has been training with St John Ambulance since she was five – is encouraging other children to join a first aid course. "A lot of eight-year-olds probably wouldn't know what to do in a situation like that but she was so calm" said her mum.
---
One of the techniques to stop people choking is to give up to five sharp back blows between a person's shoulder blades with the heel of the hand. A spokesperson from the St John Ambulance, said: "This proves you are never too young to learn first aid and save a life. Leah is a credit to her family."
---
Baby Nephew Turned Blue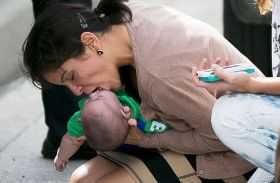 As her nephew started turning blue, Pamela Rauseo panicked. She didn't want anything bad to happen to 5-month-old Sebastian de la Cruz, who was born premature and with respiratory issues. So Rauseo stopped her SUV along Miami's Dolphin Expressway and screamed for help. She started giving the baby CPR.
---
Rauseo hadn't performed CPR in years. I don't know how I remembered what to do. I just knew I couldn't let him die, she told ABC News. Rescue crews took Sebastian to the hospital. Later that day the color returned to his face.
---
Doctors at Jackson Memorial Hospital said today that Sebastian is listed in critical but stable condition. It's still too early to know when Sebastian would be discharged but doctors said they expect a full recovery. More tests are needed before they can determine just what caused the respiratory episode, they said.
---
Rauseo who also attended today's press briefing, said she undertook CPR training about seven years ago but was still 'very nervous' about treating little Sebastian on that freeway. Dr. Juan Solano is treating Sebastian and said Rauseo acted properly. She did exactly what everybody is supposed to do in that situation, he said.
---
Eight Year Old Saves Sister's Life
Not many kids can claim to be heroes when they are in primary school, but Harry Flynn is one of a kind. The 8-year-old who learned mouth-to-mouth resuscitation from a youth organization at the Irish Red Cross TeddyBears, has used his skills to revive his younger sister at least 22 times. He has used his skills to resuscitate Isabelle at the supermarket and during family outings. His sister's room is now equipped with a sensor that alerts him if she stops breathing.
---
Isabelle Flynn, Harry's 2-year-old sister, suffers from apnea of prematurity, a condition which causes her to stop breathing on a regular basis. As its name suggests, the condition tends to occur in children born premature, and Isabelle was born about 12 weeks early.
---
Harry's heroics raise an interesting question; Should learning mouth-to-mouth, cardiopulmonary resuscitation (CPR), and other simple emergency medicine techniques be mandatory in schools? The American Heart Association estimates that up to 70 percent of people may not know what to do during a cardiac emergency.
---
CPR can effectively revive a person suffering cardiac arrest, and one study in Austria showed that children as young as 9 could successfully learn the technique. Mandatory CPR training in schools could yield a fleet of youngsters that are prepared and ready to act during an emergency.
---
Everyone Should Learn Life-saving First Aid
Without first aid, little Leah would not be with us today ! A woman whose nine-week old grandchild needed resuscitating has advised everybody to learn how to perform life-saving first aid. When Tracey Jordan's granddaughter was nine weeks old she stopped breathing and the little girl's mother, Sara Rowe, had to revive her.
---
Leah, now three, was born 10 weeks before her due date and needed a blood transfusion. She did not come home from the hospital until she was six weeks old. Three weeks later, Leah's parents had put her in her Moses basket when they noticed she was turning blue and had to perform cardiopulmonary resuscitation ? better known as CPR.
---
The doctors said that, without the immediate CPR I delivered, Leah probably wouldn't have made it.
---
The Heimlich Maneuver
Just one day after taking a class in cardiopulmonary resuscitation and first aid, Tyfanae Stuart found herself using CPR on her own husband.
---
It was on Sunday evening, the children were in bed, and Stuart was reading a book while her husband fixed his lunch for the next day. She said she didn't think anything about her husband coughing several times until she heard him running through the house and into the bathroom. He was still coughing.
---
When she went to check on him, she realized he was choking. I moved behind him and try to perform the Heimlich maneuver, which I was prepared for, since that was covered in the class.
---
After what seems like forever, my husband mouths the word 'pass out' with an utter look of despair in his eyes. My only thought was, 'I have to do this now' and after two quick compressions, he takes a clear breath.
---
She is truly thankful she took the class and encourages all her nursing classmates, her friends and her family to learn CPR.
---
Seconds Away From Drowning
A six-year-old boy was seconds away from drowning. He was saved by his older sister who had just learned CPR in basic training at JBSA-Lackland.
---
When 18-year-old Airman Shelby Goff saw her six-year-old brother Amadeus being pulled out of the water she jumped into action. He wasn?t breathing. He didn?t have a heartbeat. His skin was really pale and he had blue lips but I remembered my basic training.
---
Self Aid Buddy Care is what she learned in basic training just a few weeks ago. Goff says that if she hadn?t learned CPR she wouldn?t have known what to do, especially since it took several tries to resuscitate Amadeus. The first portion of it he still wasn?t breathing but stuff did come out of his mouth.
---
Doing the CPR the second time he took one breath and stopped again. The third time that I did it he finally started breathing on his own. Her little brother was then taken to University Hospital where her brother soon started to breath normally on his own.
---
Doctors told her that if she had been 15 seconds later Amadeus may not have survived.
---
11 Year Old Saves Dad's Life
An 11-YEAR-OLD has been hailed a hero for saving her dad's life. Budding medic Maria Rowe, from Illogan Highway, sprang into action when her father John suffered a heart attack. She used CPR (cardio pulmonary resuscitation) to help restart his breathing. The Trewirgie School pupil has been learning first aid with the Redruth Badger Sett of St John Ambulance for the passed four years. Maria dialled 999 and after learning she was a St John Badger, the operator guided her through CPR.
---
Mr Rowe, 64, started breathing again on the third cycle of resuscitation. An ambulance crew arrived and took over his treatment. Maria said: I heard a funny, whining noise. I started to scream and said, 'daddy, wake up'.
---
I called 999 and the operator told me to start CPR. Daddy started breathing after the third attempt. I felt calm at first, but afterwards, I was shocked.
---
This incident highlights the importance of first aid ? it really can be the difference between a life lost and a life saved. Doctors confirmed Mr Rowe suffered a heart attack and is recovering well in hospital.
---
AED Indicated Shock Required
An Automated External Defibrillator (AED) and San Juan Emergency Medical Services equaled a good outcome for an Islanders Bank employee. One employee spotted the victim slumped at his desk and alerted Tony Fyrqvist who is certified in first aid. With three other co-workers working with him as a team, Fyrqvist began CPR. Someone fetched the AED and it was engaged. Another person called 911.
---
Just as EMS arrived, the AED indicated a shock was called for. Before the bank workers needed to press the green button. Emergency Medical Technicians (EMTs) took over. The emergency treatment including a shock was successful and the victim was flown to a mainland hospital.
---
An AED assesses the victim, gives instructions for CPR (even counting out the beats for compression) and clearly indicates if a shock is needed. The shock is administered by pressing a clearly labeled button. The bag with the device comes with scissors to cut clothes, a razor to shave a chest if necessary, and a device to provide protection while breathing into someone's mouth.
---
Every Second Counts
A six-year old-child's lifeless body was rescued from a pool but the story took a turn for the better. Her mother knew CPR and saved the child's life. This story really does show the importance of CPR, Communications Coordinator for the American Red Cross Jay Bonafede said.
---
Authorities said the mother was trained in CPR. After approximately a dozen rescue breaths, the child regained consciousness and began breathing on her own, even before emergency paramedic crews arrived. Every second that someone doesn't have treatment, it begins to reduce their chances of survival and having a happy ending like this case.
---
Anytime kids are going to be around a pool, even if it's not your pool maybe a neighbors pool, you want to make sure that the people are not only supervising but the people in charge also have this kind of first aid and CPR training, she said.
---
His Heart Stopped Beating
The moment when his heart stopped beating is something his 17-year-old son will never forget. College student Logan watched his dad's body convulse as he suffered a massive heart attack. He looked like he was in hypoxic shock, his tongue swelled up and his hands curled up like they were cramping and he was convulsing.
---
I checked if he was breathing, he wasn't and there was no pulse and I realised he was in cardiac arrest but there was no way I was leaving him, seeing him lying there on the floor almost dead and not breathing.
---
Logan did a precordial thump on his chest - thumped it once quite hard - before he immediately began CPR.
---
Minutes later emergency services arrived and used a defibrillator to shock Mr Leahy's heart back into a rhythm. Twelve minutes and six electrical shocks later, the father of two remained lifeless. His waning body was loaded into an ambulance and rushed to Hospital. Mrs Charters said her son's actions were heroic and so mature for someone who had only turned 17.
---
Doctors said they didn't know how long he'd been without oxygen so they gave us three possibilities - he would wake up and be fine, he would wake up but have brain damage, or he wouldn't wake up at all. After an operation to insert a pacemaker and defibrillator into his chest, Mr Leahy spent three days in a coma before he woke. Mrs Charters said her husband had large burn marks on his chest and was recovering from broken ribs from the CPR.
---
The survival rate of someone that goes into sudden cardiac arrest is about 10 per cent or just below. Sometimes a person is able to be brought back by one shock and sometimes it takes more shocks until the heart is back into a rhythm. Cardiac arrest patients have a 'window of time' for CPR and ambulance officers to arrive with defibrillators, and if there was someone around who was trained to provide excellent CPR, it increased a person's chance of survival.
---
Imagine if no one was there to do CPR, chances are he wouldn't have survived.
---
My Baby Was Lifeless
It all started as I was breastfeeding my baby. I looked down and noticed he had grey lips and was lifeless. He hadn't made any noises and wasn't agitated.
---
Having been taught first aid by a former employer, I was able to administer CPR with guidance from a 999 operator ? and Cody was kept alive until paramedics arrived and rushed him to hospital. He was so tiny, the paediatric bag and mask practically covered his whole face. I wasn't getting a perfect seal so I decided to carry out mouth-to-mouth CPR, using two fingers for compressions on the chest. Ms Burse said medics expected Cody to die.
---
Cody needed a ventilator to help him breathe for weeks after he fell ill, and complications have left him with cerebral palsy.
---
But after physiotherapy at numerous clinics, he is able to walk and talk ? and doctors believe that is due to his mother giving him CPR quickly. If it hadn't have been for the fast response it could have been very different. It is so important that parents learn something that can save their children's lives.
---
There is a saying that 'every second counts' and this case shows it really does. Learning the technique can make the difference between life and death.
---
AED Defibrillator For Every School
Dame Helen Mirren has urged British school principals to improve their teachers' lifesaving training after learning over 250 children die every year from cardiac arrests. The Queen actress fears schools across the U.K. are ill-equipped for heart-related emergencies - and headmasters and mistresses need to review their policies and make sure they have the right equipment.
---
She tells The One Show, Every school should have a defibrillator and people who are trained in Cpr.
---