First Aid Training Bangkok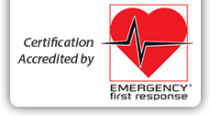 Medical emergencies are unfortunate but inevitable. Often, the first person on the scene is a family relative, a friend, co-worker, or a passerby - someone like you. CPR trained laypersons frequently influence a favorable outcome for ill or injured patients, but would you know what to do?
Join our CPR courses and you will develop life-saving techniques using the same emergency management procedures of medical professionals. All our CPR First Aid courses follow the international guidelines in critical care according to the American Heart Association 2017. Our expert trainers make serious topics fun, enjoyable, and rewarding. Click here for the basic and advanced Emergency First Response® COURSES PRICE LIST.
Emergency First Response internationally recognized CPR and First Aid Certifications prepare you to help people with life-threatening injuries or illnesses. Learn how to respond confidently and correctly in the first few critical moments of a workplace accident, during recreation, or at home. Get the right certification you need using our CPR COURSE FINDER.
Follow Us; Learn Life-saving Skills
Who Needs First Aid Training?

• Parents, Nannies, Au-pairs, Childworkers
• School Teachers, Teenagers,
• Fitness Instructors, Tour Guides
• Hotel Staff, Factory Workers
• Government Employees
• Offshore Rig Workforce
• Yoga Trainers, Gym Trainers
• Swim Coaches, Scuba Divers

In today's challenging workplace environments, occupational health and safety regulations in most developed countries require their staff to be proficient and updated in CPR and First Aid guidelines.

Emergency First Response® Primary & Secondary Care, AED, and Care for Children courses, result in internationally recognised certifications for two years from the training date. Successful students will receive an approved certification card from the Asia Pacific Head Quarters.


The lessons cover life saving skills such as cardiopulmonary resuscitation (CPR), how to use an automated external defibrillator (AED), treatment for severe bleeding wounds, conscious and unconscious choking management, how to protect spinal injuries, and shock management.

We conduct Emergency First Response CPR and First Aid Certification Courses at our training centers in Bangkok, Pattaya, Phuket, and other selected regions in Thailand. We also specialize in delivering flexible 'on-site' training for maximum convenience and realism at your home, office or workplace. All our courses include the free student study materials and the two-year international certification.

Participants do not need to have previous experience in first aid as your study materials and training aids will be provided for you during the course. The most popular basic certifications are completed in one day at the regular training venues located in Bangkok, Pattaya, or Phuket.
First Aid Training Bangkok for Workplace
CPR AED Training For Business

Does your company, organization, or team need on-site CPR, AED or First Aid Training? We provide flexible first aid training for your business employees and workforce at your location in Bangkok, Pattaya, and Phuket.

Professional Emergency Response trainers offer customized on-site seminars with hands-on workshops at your workplace or private location. We offer workplace compliant training and dynamic emergency management presentations appropriate for a wide range of corporate clients, working groups, and individuals. [Staff Training...]
Reasons to Get Certified in CPR
CPR & AED 2 Year Card 4,500 ฿
CPR & First Aid 2 Year Card 6,500 ฿
Group Lessons On-site from 9,999 ฿